Is Arenas beach is located near the pond "Is Benas" of Narbolia, in the street of "Santa Caterina di Pittinuri".
It's one of the longest beaches in the province of Oristano (6 km) and it's located in a natural contest of great interest, with pink sand dunes which reach 50 meters in height.
All around, in a very wide area, is a pine forest where Is Arenas Golf & Country Club, one of the most spectacular golf courses in Italy, is located.
The beach is exposed to the mistral. For this reason it is much loved by people who practice surf.
Is Arenas Golf Club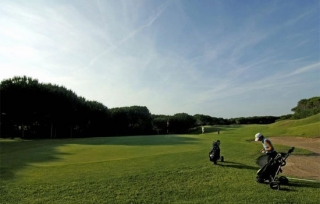 Is Arenas Golf Club is a golf course with 18 holes (par 72) designed and built by the famous American golf architect Robert Von Hagge.
In 2002 the course was awarded as best new italian golf course of 2001 from a special commission of "Il Mondo del Golf". In 2003 it was considered one of the best 20 golf courses in Italy and it has been judged one of the most attractive golf courses in the Mediterranean both in the technical and environmentally.
The golf complex is also equipped with a 3-hole executive course (par 9) and a magnificent driving range with 40 stations.
How to arrive
Exit from Oristano following directions for Cuglieri, at the first crossing near B&B Al Rimedio; pass "Riola Sardo" and continue until the deviation for pine forest of Is Arenas. It's possible to reach the beach by the deviation of Nurapolis Camping or by another deviation before "Torre del pozzo".